Bottles & Accessories
Filter
Showing the single result
Added to wishlist
Removed from wishlist
0
Add to compare
- 19%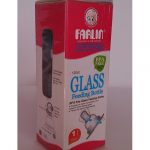 Bottle & Accessories.
Whether you are breastfeeding or bottle feeding you will need a couple of bottles to feed the baby. It is always good to have a 4-ounce, 8-ounce and a 10 or 12-ounce bottle. Some types of bottles mentioned below:
Angled Neck Bottles, which are made to reduce your baby's air intake by keeping the nipple, filled with liquid. It is better if there is less air because it will cause less gas and discomfort for your infant.
Disposable Liners are plastic bags that are reusable and collapse as the baby drinks which also minimizing air swallowing and future gas and discomfort.
You can sterilize the bottles in your dishwasher or you can wash them in hot water. Doctor might recommend that you submerge the bottle and nipple in a pot of boiling for a few minutes before each use to ensure the bottle is completely sterilized. The other way to sterilize the bottles is to buy a bottle sterilizer that is the brand of the bottle you choose. Rinse out the bottles and then put the bottles in the sterilizer face down. 7-10 ounces of water put in the bottom of the sterilizer. After that place it in the microwave for 3-4 minutes and wash it, then fill the bottle with the new formula.
Never heat breast-milk in the microwave because it will kill the nutrients in the breast milk. If you heat, formula puts it in a pot of warm water or run hot water over the bottle. In addition, never put a formula bottle in the microwave because the formula may warm unevenly and create "hot spots" that can be hot and burn your baby's mouth.
Where to start with regards to your choice of Baby Bottles can often be daunting. At the same time as many brands offer great products, whether these are the right ones for you are not always clear. Making you pick depends on what is right for you. Doing this out to be however easier when you listen to what other mums has said about their needs and how some bottles accommodate these.
1. One of the fundamental reasons to select one brand of bottles and Bottle Teats over another is their ability to let your baby accept the bottle with ease. For babies who are initially breastfed, for combination feeding, or even for babies who are bottle-fed from the outset, it is essential that the baby accepts the bottle. Whilst this may seem like second nature, it is not always that straightforward. A great choice therefore is to look for a bottle designed with a teat that provides the most lifelike and comfortable feeding experience. Mums who are nervous about their baby accepting a bottle, either at birth or in transition to bottle have been thrilled to see how easily their babies accept these bottles. For combination feeding, mums have also reported that nipple confusion is avoided with the easy latch-on teat shape. No fussing means a more comfortable feed for everyone involved.
2. Another consideration, which is important if you are going to use formula, is how wide is the bottle. With such a wide neck, mums as being particularly user-friendly for adding the milk powder is simple and hassle-free have remarked upon the Closer to Nature bottles.
3. Whether feeding expressed milk or formula, a third reflection that mums mention is how well their babies are able to feed without interruption. With the sensitive valve, advanced Easy-vent technology optimum venting, and continual feeding, mums has acknowledged that their baby gets the best possible protection against colic.
Recommending the right choice of Bottle Accessories is also something that mums would wish to share is how the range of Baby Products contributes in its entirety to an easy baby diet. For cleaned bottles, all that is needed is 80 ml of water. Mums love the simplicity of sterile bottles for up to 24 hours.