Friends Adult Diaper-Easy-Medium-Pack of 10
Lowest Price: ₹ 359 on Healthgenie. Updated: November 20, 2021 10:28 pm
Smart Saving
Pack of
Units
Price
₹/10 units
12
120
₹ 3699

₹

308
Buy
6
60
₹ 1949

₹

325
Buy
3
30
₹ 1029

₹

343
Buy
Product Overview
Superior absorbency turns fluid into gel.
* Users feel dry & comfortable.
* Frontal tape with landing guide.
* Two pairs of refastenable Tape Tabs.
* Multistrand Leg Elastic – For comfortable snug fit without pinching on skin.
* Light in Weight.
Contour shaped Disposable Diapers
Inner Absorbent pad
Super Absorbent Polybeads
Two pairs of re-fastenable Tape
You may be interested in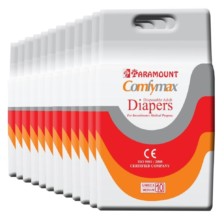 Friends Adult Diapers is an effective way to deal with the problem of elderly incontinence; the inability to exercise control over the bladder & the bowel. They are a blessing for people suffering from Prostate or Urology disorders, Piles, Incontinence, Diabetes, or even patients who are bed-ridden & disabled. Light in weight, no odours, no leakage and no sores. Comes with a Wetness Indicator. The writings disappear or fade away when the diaper is fully wet, indicating the need to change the diaper, so the person does not suffer from any rashes or infections. These contour shaped disposable diapers, are like a friend to the elderly. Now they can step out of home any time with confidence. Safe for overnight use too. However, the frequency to need to change may differ from person to person and according to the weather. The diaper comes with 2 pairs of re-fastenables that allow for multiple adjustments & refastening on frontal tape. The frontal tape & landing guide is what allows for the tape's repeated adjustments. There are also tabs for a new user & a guide for proper tape tab positioning for a regular user. The standing leak guard is unique & offers maximum protection from leakage. It stops the faeces & urine from flowing in the direction of the elastic.
1 review for
Friends Adult Diaper-Easy-Medium-Pack of 10
Amazon Reference is missing on this product. Please check back after few days.
Related Products