Paramount Comfymax Premium Adult Diapers, Medium – Pack of 10, (71cm-101cm | 28″-40″)
Lowest Price: ₹ 289 on amazon.in. Updated: December 3, 2021 10:03 am
ADL(Acquisition Distribution Layer) and Wet indicator are two imperative features of Adult diaper that allows an individual to feel dry and comfortable at all times and the change in color shows the excess absorption of water respectively.

Wet indicator shows yellow color till the time it is unused and as soon as the pad absorbs water it switches it's color to blue. 3This is how one can easily distinguish the benefit of a wet indicator.

Inner absorbent pad: The inner absorbent pad allows the easy absorption even when the pad is to be thoroughly utilized to it's most. The amazing feature of providing inner absorbent pad is also to be taken care of. As this further enables the person using it maximum satisfaction without any kind of discomfort.

Users feel dry and comfortable: It enables the individual to feel wet free even when it's fully absorbed in water. It further empowers you with dry and thorough comfort while using it.

Superior absorbency polymer(SAP) turns fluid into gel: Superior absorbency polymer turns fluid into gel with providing no discomfort at all. These polymers can absorb as much as water by converting it into gel and holding it for long without causing any discomfort.
You may be interested in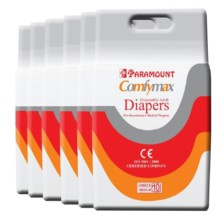 Paramount Comfymax Premium Adult Diapers
Comfymax Regular Adult Diaper is a one stop solution for all the elderly, who find it hard to relieve themselves or have no control over urination aged individuals or such find solace in such diaper pads. Two significant factors of these diapers are ADL(Acquisition Distribution Layer) and Wet indicator.These diaper come in different sizes in order to cater to different people's needs,aged individuals as it's title suggest highly comfortable to use and can be worn for long hours and not necessary to be changed after a fixed period of time. It's high absorbency enables the pad to soak the water level with much efficiency at display. It is designed in such a way that it has superior quality of anti leakage.
Main Features:
1.Skin friendly
2.Anti leakage design
3.Handy
How to use:
1.Help the patient lie down& turn to one side. Fold pant in half with tape facing upwards and place behind patient.
2.Ask patient to roll onto their other side. Open other side of pant.
3.Ask patient to lie on their back, then pull the frontal tape to their belly. Fasten the tape to the correct position.
4.Adjust the flexible pleats to help create a better fit.
| | |
| --- | --- |
| Multi Pack | |
| Type of Diaper | |
| Size | Medium |
| Number of Units in 1 Pack | |
| Number of Pack With Unit | |
| Brand | |
| Perfumed | |
| Waist Size | |
| Product Type | |
| Wetness indicator | |
| ADL | |
2 reviews for
Paramount Comfymax Premium Adult Diapers, Medium – Pack of 10, (71cm-101cm | 28″-40″)
Related Products